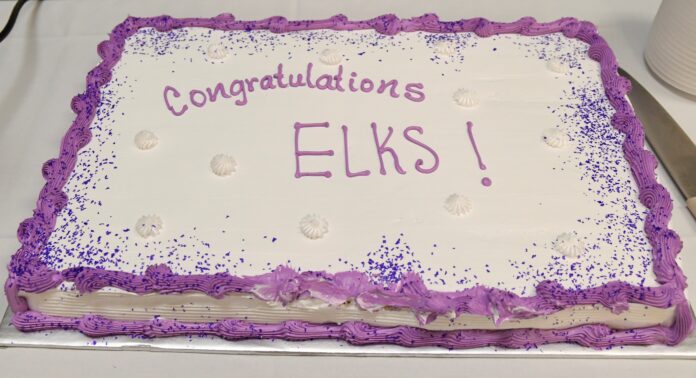 Mission Viejo, CA – Mission Viejo / Saddleback Valley Elks Lodge No. 2444 conducted their annual tribute to members for years of service at a recent meeting. This year's event, which was attended by over 200 Elks members and guests, recognized years of tenure from one (1) to fifty (50). Exalted Ruler ("ER") Jamie Camunas presided over the meeting. Lodge Secretary Laura Lumley acted as master of ceremonies and awarded 152 service pins. Secretary Lumley said of the event, "Pins are awarded for five-year increments of service. We affectionately call the event 'Old Timers Night' and it is always a fun-filled get-together for the recipients and attendees. There is always lots of storytelling from the older members about the early history of our Lodge." 135 members were awarded five through twenty-year pins.
25-year pins went to Lucky Walch and Harvey Ohman. 30-year pins went to Steve Rusie, Scott Motsenbocker, and Al Ramirez. 35-year pins were awarded to Joe Stanzyk, Jim Humphrey, and John Nix. A 40-year pin went to Joe Packi. The superstars of the evening were the six members who were honored for 50 years of service. The six were: Past Elk of the Year John Morrow, Cullen Ellingburgh, Marion Migliore, Gil Martinez, Wayne Cole, and Robert Cary. Three were in attendance and received a standing ovation while receiving their 50-year pins: John Morrow, Gil Martinez, and Wayne Cole.  
ER Camunas said of the event, "Our Lodge is growing with a current membership of over 1,270 members. Many of our new members are younger men and women and we love to see those young families here enjoying themselves at a Friday night dinner as they are certainly the future of the Elks. Thanks to our growing membership, we have been able to increase our charitable activities and give back more to the community." Camunas added, "Nevertheless, I think it is great when we honor our old-timers. They are the people who built this Elks Lodge and made it the outstanding patriotic, social and charitable organization it is today."
The Mission Viejo / Saddleback Elks Lodge No. 2444, celebrating fifty (50) years of service to the Saddleback Valley communities, is one of eight lodges in the Orange Coast District of the Benevolent and Protective Order of Elks (BPOE) whose headquarters is in Chicago, Illinois. The BPOE is a charitable organization with a 151-year history of giving, "Elks Care, Elks Share." For information regarding Elks charities or membership in the Elks call 949-830-3557.
Andy Costello, Lodge Publicity