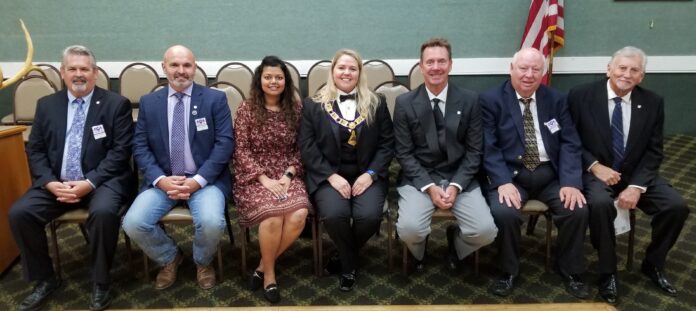 Photo:  Seated L to R: Robert McBurney,  Terry Dungan, Sonam Shah, Exalted Ruler Jamie Camunas, Mikel Schumacher, Mark Lambert, and Allen Arnott
The Mission Viejo – Saddleback Valley 
Elks
 welcomed six (6) new members in a rare Saturday morning initiation. The local Lodge held their initiation of new members on a Saturday morning for only the second time. The added Saturday initiation is being held in hopes of making the process of becoming an 
Elk
 more convenient for the increasing number of young men and women who have family and work responsibilities that occupy them during weeknights. Three new members are from Mission Viejo: Allen Arnott, Mark Lambert, and Sonam Shah. Lake Forest residents are Mikel Schumacher and Robert McBurney. Also joining the 
Elks
 is Terry Dungan of Rancho Santa Margarita.
The Lodge announced plans for their forty-ninth (49) Anniversary party for members and families to be held on Sept 14th. A Gold-Star Mothers Luncheon will take place on Sept 21st. October will be one of the busiest 
months
 for the 
Elks
 with the official visit of the Orange Coast District Deputy Grand Exalted Ruler Scott Stephens and wife Mary Kay, the Purple Pig Rally for Handicapped Children, the Senior's Dance, and the Lodge's participation in the City of Mission Viejo's Red Ribbon Walk.
The Mission Viejo -Saddleback Valley 
Elks
 Lodge No. 2444, celebrating forty-nine (49) years of service to the Saddleback Valley Community, is one of eight lodges in the Orange Coast District of the Benevolent and Protective Order of 
Elks
 (BPOE) whose headquarters is in Chicago, Illinois. The BPOE is a charitable organization with a 150 year history of giving, "
Elks
 Care, 
Elks
 Share." For more information about 
Elks
 charities or membership, call 949 830-
ELKS
 (3557)