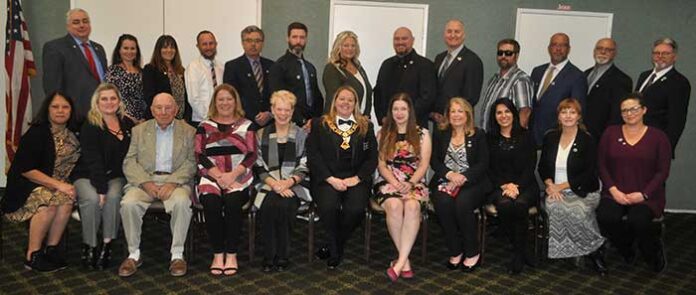 Seated L to R: Jamie Miranda, Sonya Fisher, Ronald Zimmerman, Kelly VanDyke, Ruth Kurisu, Exalted Ruler Jamie Camunas, Rebecca Braush, Jane Carey, Stephanie Renoyso, Elaine Thomson, and Nicole Sonnenfeld Standing L to R: Greg Butler, Tracee McRane, Jana Merk, Adam Becklin, Oscar Ayon, Stuart Murphy, Kim Kassell, James Sutton, Rob Scotto, James Shultz, Greg Thomas, Claude Fusaro, and Roger Sonnenfeld
New Members and Feb. 1st annual Awards Appreciation Dinner for area's First Responders.
MISSION VIEJO…The Mission Viejo, Saddleback Valley Elks welcomed twenty-three new members at their January Initiation ceremony. Residents initiated from Mission Viejo are Jana Merk, James Shultz, Tracee McRane, Elaine Thomson, Adam Becklin, Greg Butler, Claude Fusaro, Jamie Miranda, Oscar Ayon, and Kelly Van Dyke. Rancho Santa Margarita residents are Stuart Murphy, Kimberly Kassell, and Jane Cary. Other new members are Nicole and Roger Sonnenfeld of Lake Forest, Sonya Fisher of San Juan Capistrano, Ruth Kurisu of Laguna Niguel, James Sutton of Aliso Viejo, Ronald Zimmerman of Laguna Woods, Stephanie Renoyso of Newport Beach, Greg Thomas of Coto De Caza, Rob Scotto of Portola Hills, and Rebecca Brauch of Cambridge Ohio.
In other Elks news, plans are in the works for the Elk's annual Appreciation Dinner for the brave men and women Police and Fire Fighters of South County. The event will take place on February 1st. Awards will be handed out to individuals for outstanding service to the community during the past year.
The event is always well attended by not only recipients but by department VIPs of the various services and by families of the recipients.
Past Exalted Ruler Dennis Keffer said, "I have been master-of-ceremonies for this special event for many years and yet I'm always amazed when I hear the never-ending stories of valor and bravery of these incredible men and women as they go about protecting our way of life on a daily basis. Our Lodge is very proud to be able to honor these fine people."
The Mission Viejo, Saddleback Valley Lodge is celebrating 50 years of service to the Saddleback Valley Communities. It is one of 8 lodges in the Orange Coast District of the Benevolent and Protective Order of Elks (BPOE) whose headquarters is in Chicago, Illinois. The BPOE is a charitable organization with a 151-year history of giving. "Elks Care Elks Share". For information regarding Elks programs or membership, call 949 830-3557. Photo: Dennis Lumley
Huntington Beach News 18582 Beach Blvd. #236 Huntington Beach, CA 92648
Email: [email protected]