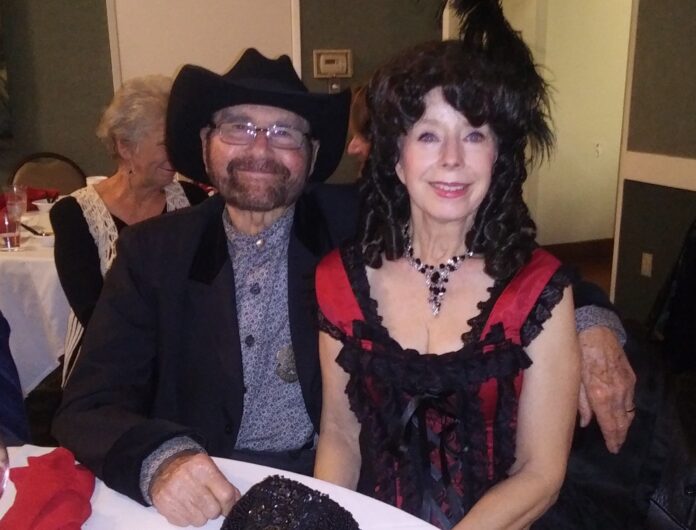 ELKS WESTERN NITE DANCE

AND
PEDIATRIC CANCER FUNDRAISER BIG SUCCESS
By Mike Long
Cowboys and cowgirls flocked to the Mission Viejo/Saddleback Valley Elks Lodge Saturday to attend the Western Nite Dance and Fundraiser for Pediatric Cancer.  Event chairperson and Lodge Trustee Vicky Long welcomed one hundred and twenty Elks and their friends to the sold-out charity event in which all proceeds are donated to the Orange County Foundation for Oncology Children and Families (OCF-OCF).  The Mission Viejo Elks have enjoyed a long-term community relationship with OCF-OCF and has donated money, goods and services to OCF-OCF for over 15 years.
The Elks Lodge was transformed into an 1880's Western boomtown for the evening.  Outside the Lodge lay many wooden tombstones with humorous epitaphs; while guests were greeted in the Lodge entrance by mannequin poker players and brass spittoons.  The walls inside the large Lodge room were adorned with tall canvas murals, each painted with a rustic scene, including a saloon, a hotel, more mercantile frontages and a campfire under the stars.  During the evening festivities Cowboy Deputies "arrested troublemakers" and briefly held them in the Elks County jail. Photographs were taken for future Wanted Posters and the jailbirds were set free after posting a $1 bail to charity.
Many Elks and their guests were lavishly dressed in authentic western outfits and prizes were awarded by popular acclamation for the best western costumes. Best Couple costume winners were Bill and Julie Hill.  Best Cowgirl costume winner was Jane Griffin.  Best Cowboy costume winner was John Fischle.  Line dancing and couples dancing was inspired by the fabulous country & western music of the "South County Band". The dance floor was filled all night and a great time was had by all.
All the cowboys and cowgirls feasted on BBQ ribs and chicken, mashed potatoes, Caesar salad and rolls donated to the event by the Outback Steakhouse on Cabot Road in Mission Viejo. Our thanks to Outback Steakhouse for their generous and ongoing support of our Elks charities. To go with that great food, Mrs. Long also whipped up a scrumptious dessert of peach cobbler and whipped cream for the evening's buckaroos.
Event chairperson Mrs. Long thanked the many volunteers who helped with ticket sales, decorating, cooking, serving and cleaning up. Volunteers included: Gail Patti, Jack and Sandy Jacobs, Andy Costello, Sandie McClure, Basia Bills, Larry Colgan, Allen Harkness, Mike Long, Sue Castellano, Debbie Lamb, Exalted Ruler Jamie Cumunas, Leading Knight Greg Morgan, and Lecturing Knight Kim Maestri.
The Mission Viejo/Saddleback Valley Elks Lodge #2444 is celebrating 50 years of service to Saddleback Valley Communities. It is one of 8 lodges in the Orange Coast District of the Benevolent and Protective Order of Elks (BPOE) whose headquarters is in Chicago, Illinois. The BPOE is a charitable organization with a 151-year history of giving. "Elks Care Elks Share". For information regarding Elks programs or membership, call 949 830-3557.
http://www.hbnews.us/communitJ.html
http://www.alisolagunanews.com/elks-western-nite-dance-and-pediatric-cancer-fundraiser-big-success-2/
"Honest judge, all we did was to park in the ER's space."
Enjoying the party and the 1880's Western boomtown decorations
Best Costume winners Bill and Julie Hill
Man's Best Cowboy Costume John Fichle with
"Hot-rod Scooter" Nancy Ingham
Jack & Sandy Jacobs getting ready to hit the dancefloor
South County Band keeping the dancers busy all night