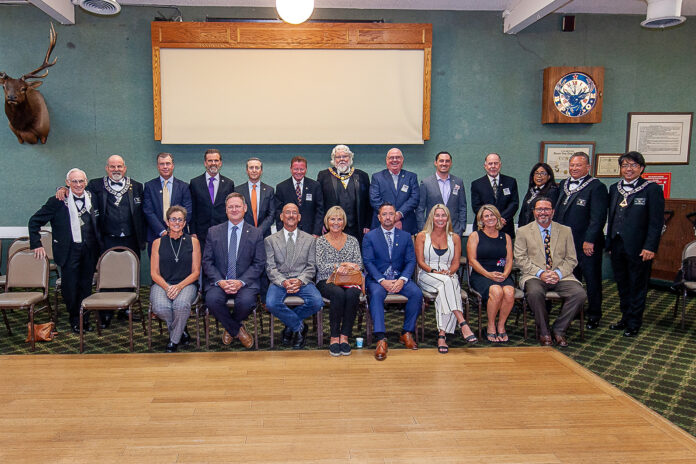 Seated L-R:
Jennifer McCann
,
 Devin Doherty, Rich Encinas, Donna White, Elliot Allen, Rachel Hanson
,
 Melanie Fyhrie
, and Dan Connell
Standing L-R:
Dick Holmes Chaplain, Russell Sindt
Inner Guard, Mike Parks
,
Paul Kratzer, Hugo Macias
, 
Mike Spencer
,
 Exalted
 Ruler
 Greg Morgan PER, Stephen McCann
,
 Hunter McCann
,
 Mark Dawson
,
 Tenisha Campanile Loyal Knight, Jerry Flores Lecturing Knight, 
and 
Rick Moscoso Leading Knight
.
Photo credit: Rick Moscoso
by Sandy Gruzdis
Elks Welcome Fifteen Saddleback Valley Residents
The 
Mission Viejo Saddleback Valley
 Elks welcomed fifteen new members in August. New Elks are 
Stephen and Hunter McCann
from Rancho Santa Margarita, 
and Jennifer
 McCann from Huntington Beach
. 
Also from Rancho Santa Margarita are
Rachel Hanson
 and 
Melanie Fyhrie
. Other new members are 
Devin Doherty
, Mike Parks, and 
Hugo Macias
, of Mission Viejo, 
Dan Connell
 of Trabuco Canyon, 
Paul Kratzer 
of
 Laguna Woods
, and 
Mike Spencer 
of
 Long Beach
.  New members were initiated into the Benevolent Protective Order of Elks on August 24, 2021.
The Mission Viejo/Saddleback Valley Elks Lodge #2444 is celebrating over 50 years of service to Saddleback Valley Communities. It is one of 8 lodges in the Orange Coast District of the Benevolent and Protective Order of Elks (BPOE) whose headquarters is in Chicago, Illinois. The BPOE is a charitable organization with a 152-year history of giving. "Elks Care Elks Share". For information regarding Elks programs or Elks membership, call 949 830-3557.