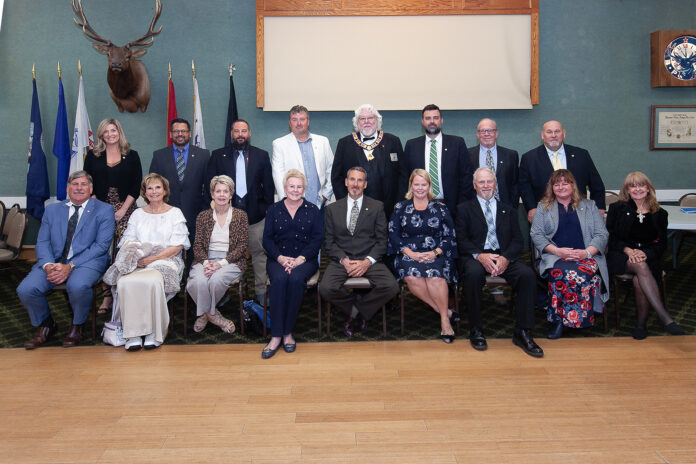 Standing left to right: Shanna Doyle, Luis Verdugo, Josh Guillen, Michael Griffin, Exalted Ruler – Greg Morgan, Joseph Haney, David Tibbs, and Kevin Rhoades
Sitting left to right: Steve Ruckmick, Gloria Alfaro, Margie Ferrelli, CJ Reagan, Greg Glick, Heather Dueitt, Terry Dahm, Judy Rhoades, and Susan Pojmanski.
Photo credit: Rick Moscoso
by Andy Costello
The Saddleback Mission Viejo Elks Lodge #2444 welcomed sixteen new members into the Lodge last week. Initiates residing in Mission Viejo are Josh Guillen, Margie Ferrelli, Joseph Haney, CJ Reagan, and Terry Dahm. Other new members are Michael Griffin of San Juan Capistrano, David Tibbs, and Susan Pojmanski of Lake Forest, Kevin and Judy Rhoades of Huntington Beach, Shanna Doyle of Ladera Ranch, Luis Verdugo and Gloria Alfaro of Rancho Santa Margarita, Greg Glick, and Steve Ruckmick of Laguna Niguel, and Heather Dueitt of Coronado, CA. Exalted Ruler Greg and his corps of officers conducted the initiation ceremony. Present for the event were the sponsors of the new members who showed their appreciation along with the officers and other members in attendance as the sixteen initiates introduced themselves. Most impressive to all, in their introductions, was their obvious awareness of the great charity work carried out by the Elks, and all expressed a desire to be part of that benevolent work.
The Mission Viejo/Saddleback Valley Elks Lodge #2444 is celebrating over 50 years of service to Saddleback Valley Communities. It is one of 8 lodges in the Orange Coast District of the Benevolent and Protective Order of Elks (BPOE) whose headquarters is in Chicago, Illinois. The BPOE is a charitable organization with a 152-year history of giving. "Elks Care Elks Share". For information regarding Elks programs or Elks membership, call 949 830-3557.