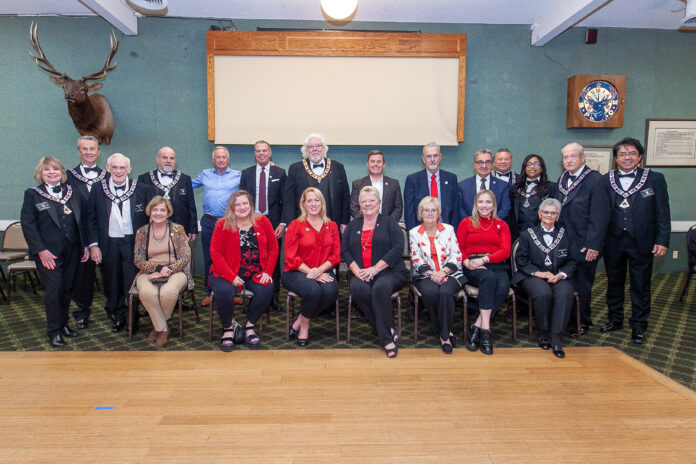 Seated L-R:
Rosalyn Hersch – MV, Nancee Potter – AV, Lisa Armstrong – SJC, Cyndee Tillman – LF, Pat Haley – LF, Jacquline Vallejo – LH, Lynette Holmes – Tiler
Standing L-R:
Cookie Akesson – Treasurer, Len Holt – Asst. Inner Guard, Dick Holmes – Chaplain, Russell Sindt – Inner Guard, William Mattila (HB #1959 sponsor for Stephen Becker that stood in the shot), Stephen Becker – MV, PER Greg Morgan – ER, Mike Seyler – MV, Randy Notko – LF, John Consoli – MV, Jerry Flores – Lecturing Knight, Tenisha Campanile – Loyal Knight, PER Norm Jones – Secretary, Rick Moscoso – Leading Knight
Photo credit: Rick Moscoso
by Sandy Gruzdis
The Mission Viejo Saddleback Valley  Elks Lodge is thrilled to continue to welcome more members each month.  Welcoming 10 new members in November, they were initiated on the 18th in a very sacred ceremony that is the same as it was when the Elks organization was founded in 1876.  New members from Lake Forest are Randy Nutko, Cynthia Tillman, and Patricia Haley.  From Mission Viejo, Michael Seyler, Rosalin Hersch, John Consoli, and Stephen Baker.  Residing in Lake Forest, Aliso Viejo, and Dana Point, respectively are Jacqueline Vallejo, Nancee Potter, and M.Lisa Armstrong
As an example of what the Elk's do, the Mission Viejo Saddleback  Lodge just donated $2,000 to the Marines and Sailors Adoption Committee for their Adopt a Marine Program. The foundation enhances outreach efforts for needs between the community and Police Services. The committee support over 1,200 marines and sailors of the Headquarters Battalion, 1st Marine Division from Camp Pendleton. The donation will provide weekly care packages if the marine is deployed, a Thanksgiving meal for the marine and their family, baskets filled with necessities for a marine's newborn and expectant families, and many other necessities and supplies.
The Mission Viejo/Saddleback Valley Elks Lodge #2444 is celebrating over 50 years of service to Saddleback Valley Communities. It is one of 8 lodges in the Orange Coast District of the Benevolent and Protective Order of Elks (BPOE) whose headquarters is in Chicago, Illinois. The BPOE is a charitable organization with a 152-year history of giving. "Elks Care Elks Share". For information regarding Elks programs or Elks membership, call 949 830-3557.