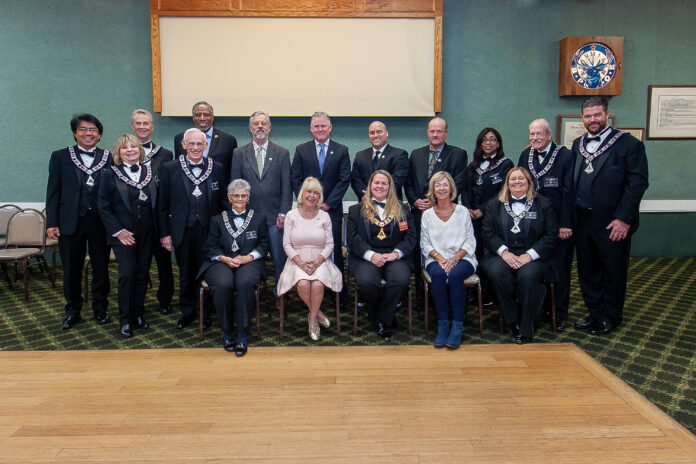 Seated L-R:
Lynette Holmes – Tiler, Carol Allen – Laguna Niguel, Jamie Jasso – PER, Melinda Decker – Laguna Hills, Jenny Buford – Esquire
Standing L-R:
Rick Moscoso – Leading Knight, Cookie Akesson – Treasurer, Len Holt – Assistant Inner Guard, Dick Holmes – Chaplain, Eric Walker – MV, Jeff Williams – Lake Forest, Jeff Grossweiler – MV, Lou Pereyra – Lake Forest, Jim Neville, Tenisha Campanile – Loyal Knight, Norm Jones, PDDGER – Secretary, Stuart Urquhart – Officer at Large
Photo credit: Rick Moscoso
by Sandy Gruzdis
The Saddleback Valley Mission Viejo Elks Lodge #2444 is thrilled to present 7 new Members for the month of October.  The Initiation ceremony is a time-honored tradition that has been maintained for over 150 years.
The new Members are Carole Allen from Laguna Niguel, Jeffrey Grosswieler, James Neville and Eric Walker from Mission Viejo, Luis Pereyra and Jeffrey Williams from Lake Forest and from Laguna Hills, Melinda Decker.
The Mission Viejo/Saddleback Valley Elks Lodge #2444 is celebrating over 50 years of service to Saddleback Valley Communities. It is one of 8 lodges in the Orange Coast District of the Benevolent and Protective Order of Elks (BPOE) whose headquarters is in Chicago, Illinois. The BPOE is a charitable organization with a 152-year history of giving. "Elks Care Elks Share". For information regarding Elks programs or Elks membership, call 949 830-3557.