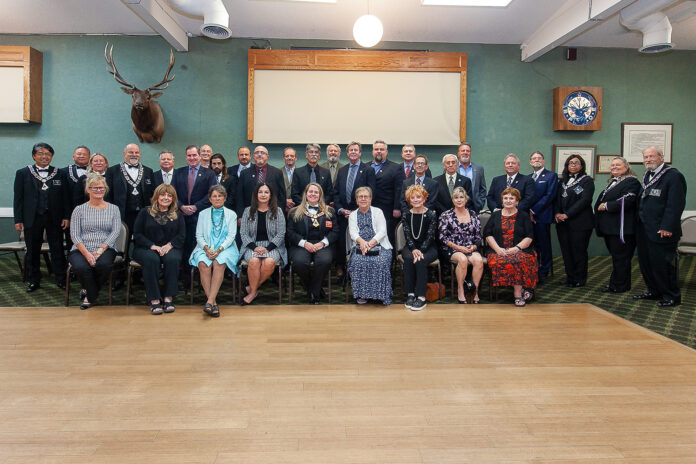 Seated L-R:
Sallie Gahagan, Carol Caputo, Betsy Starkweather, Irma Goerner, Jamie Jasso-PER, Judy Dale, Susan Kussrot, Victoria Stokes, and Michele Scaglione
Standing L-R:
Rick Moscoso-Leading Knight, Jerry Flores-Lecturing Knight, Kelly Van Dyke-Asst. Tiler, Russell Sindt-Inner Guard, Larry Jones, Finbar Kiely, Shawn Millerick, Cody Henderson, Raymond Bueche, Garnet Gahagan, Michael Dietrich, Miguel Grado, Richard Leonard, Ronald Starzyk, Ryan Benda, David Owens, Michael Holst, Maurice Hachey, Scott Zimmerman, Jeff Ocheltree, Mike Wilson, Tenisha Campanile-Loyal Knight, Jenny Buford-Lodge Esquire, & Norm Jones, PDDGER-Lodge Secretary
Photo credit: Rick Moscoso
by Andy Costello
The Mission Viejo, Saddleback Valley Elks welcomed twenty-five (25) new members in September. Past Exalted Ruler Jamie (Camunas) Jasso conducted the impressive initiation ceremony along with the Lodge's corps of officers. Lodge Membership Chairwoman Sandie McClure said, "This September class of initiates is one of the largest groups of men and women to join our Lodge in a single month." McClure added, "Right here in the Saddleback Valley, our Lodge is on-course for a record-breaking increase in membership this year." Nationwide, the Order of Elks has initiated over 50,000 new members in the past six months. 
The Mission Viejo/Saddleback Valley Elks Lodge #2444 is celebrating over 50 years of service to Saddleback Valley Communities. It is one of 8 lodges in the Orange Coast District of the Benevolent and Protective Order of Elks (BPOE) whose headquarters is in Chicago, Illinois. The BPOE is a charitable organization with a 152-year history of giving. "Elks Care Elks Share". For information regarding Elks programs or Elks membership, call 949 830-3557.